Web Design by the Creative Pros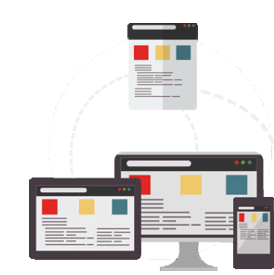 In today's digital economy, a well-built, visually appealing website is the best investment you can make for your company. Let our one-of-a-kind website design set you apart from your competition!
Whether you need a basic WordPress site for as low as $400 or a complex, custom designed website with integrated applications and top-notch security, we'll design your site with your needs in mind. When you start a web design project with us, we won't drop your site into a 3rd party theme that's just like every other site on the web – we'll work with you to make sure the site meets your needs and continues to perform well in the future.
We value customer involvement, so you will have a role in determining the form and function of your new website. First, we'll work with you to establish your needs and create a project plan. Having a clear plan is important for a successful web project, and it helps ensure you're happy with the final product. Then, once we start production, our expert design & development team will follow the project plan to pack your site with the features you need.
Zee Creative regularly works with content management systems and code frameworks such as WordPress (our favorite), SilverStripe, CodeIgniter, and Shopify, in addition to years of experience with custom programming & development. We have over two decades of web experience behind us – see some of our recent work below, or read our client reviews & testimonials.
take control of your content
Enjoy the freedom of managing your own content. An easy-to-use content management system (CMS) lets you edit and update your own site without any coding experience. You can change prices in your online store, add blog entries and calendar events, or upload new photos to your gallery. No need to stress over update costs! You can log in and edit or add whatever you need, but don't worry – if you get stuck or just want us to handle it, we're here for you. Contact us to learn more about the value and capabilities of a CMS.
there's more: additional features
Ecommerce: Sell your products to a wider market with an online storefront!
Blogs: No need to use a separate platform for your blog – let us create a custom blog for your site.
Custom Web Forms: Collect the data you need with a custom contact form, survey, or quote request.
Mobile Responsive Design: Make sure your customers can reach you on any device with a responsive design or mobile-specific site.
related web services
Didn't find what you need here? This is by no means a comprehensive list of possible features, and we're willing to build custom functions and original ideas for your web project. Get in contact or request a quote to learn more.