Custom decals are a great way to bring your brand into your office, restaurant, or store. As an excellent low-profile sign option that adds personality to any location, graphics can range from simple text to bold designs which cover a full wall.
Almost anything is possible with custom decals!
---
Custom Vinyl Lettering
Vinyl lettering allows you to display letters, numbers, or graphics in a clean, professional way. Your design will be cut to exact shape from a sheet vinyl material, leaving no background. Vinyl lettering is most often used in office or retail spaces and are a great solution for displaying information or inspirational quotes.
Include your logo and business information on interior or exterior doors. Door graphics are a great fit for exterior doors or multi-tenant buildings with shared entrances.
Where can I apply vinyl graphics and decals?
Some of the most popular uses for vinyl graphics and decals include those that involve your vehicle, such as full or partial vehicle wraps and other vehicle decals. Storefronts and entryways are also a common application for vinyl graphics, since they can be used to convey critical information about your business.
Almost any flat surface you have can be a great spot for the right vinyl decal. However, the most common uses are:
Custom Window Decals
Change up the look of your storefront and bring customers through the door. They're easy to install & remove, so you can easily update the look of your store for events or seasonal changes.
Window decals can be placed on any smooth glass surface and are great for displaying store hours, business logos, featured products, promotions, & more. They can be used both indoors and outdoors and are designed to withstand rain, snow, sun, and other weather.
Custom Wall Decals
Showcase your logo, motto, or other design on your interior walls. An excellent choice for conference rooms, restaurant dining areas, or retail locations.
The durable vinyl material will apply easily to any smooth surface and will remove clean. Choose from a variety of materials or styles to create a seamless, professional looking design for your walls at an affordable cost.
Custom Floor Decals
Floor decals are a great solution for adding directions, branding, or decoration to the floors of your business or retail store.
They stick strong but are still removable. Specially formulated and certified slip resistant, these are durable enough to withstand foot traffic and are skid-proof, preventing you and your customers from slipping on them.
---
When you're ready to take the next step on your vinyl graphics, contact us today to set up a consultation.
How are vinyl decals made?
---
Printing vinyl decals can seem like a labor-intensive process if you're unfamiliar with it, but when you have state of the art equipment like Zee Creative, the actual fabrication process doesn't take long at all.
Here's an easy breakdown of our process:
1. Design
You'll need something to print before we can print it!
If you want printed logos, or have an in-house design team, you can send us vector files, which work best due to their scalability.
Or you may have something in mind, but aren't sure how to implement it. You can trust in our design team to bring your idea to life.
2. Print
We'll run a sheet of vinyl through a wide format printer, which will provide the correct hues for your design.
We offer both white and clear vinyl sheets, the latter being used primarily for window graphics.
3. Cut
We develop what's called a cut file for your custom design, then we run the decal sheet through the plotter. There are two primary types of cutting:
The machine will read the cut file, then channels the shape of your vinyl decal using a moving head blade.
4. Weed
Even after plotting, our team meticulously sifts through every last decal to remove any excess material that isn't being used in the design.
5. Mask
For the installation process, alignment is critical, which is why we cover your design with transfer tape and keep everything spaced properly.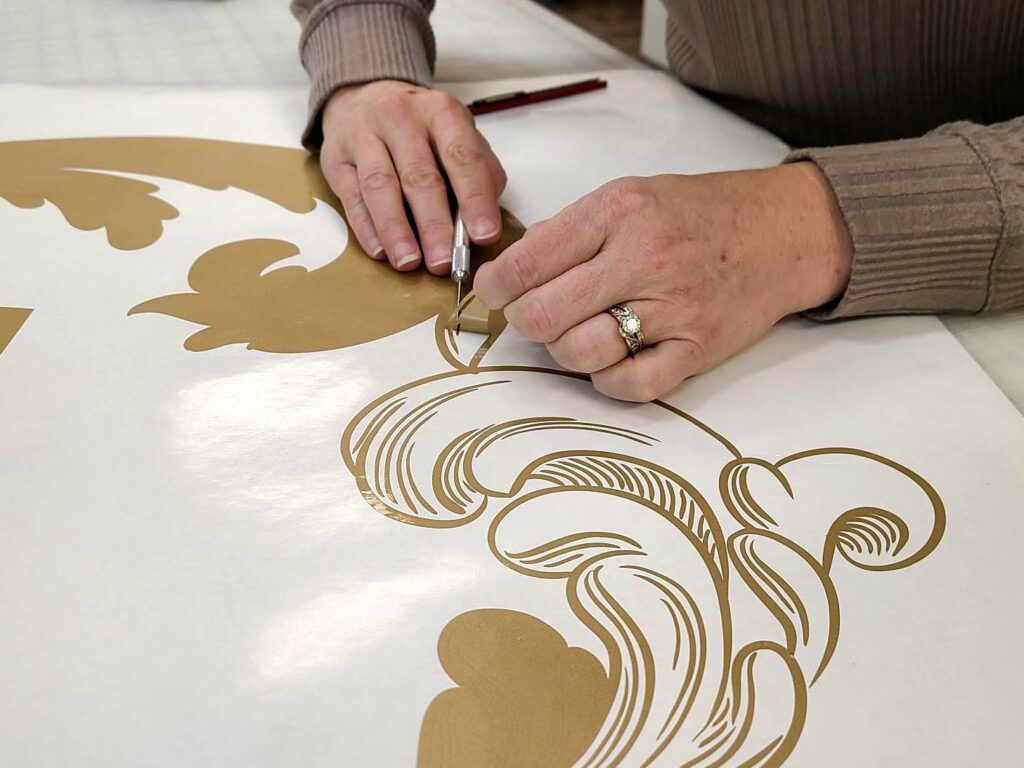 Be in the know…
Do vinyl graphics damage surfaces like glass or drywall?
Our high-quality vinyl adhesive is designed to prevent damage during removal. Something as simple as a felt-tipped squeegee can help peel a stubborn vinyl decal off a storefront window. Otherwise, bending the decal at the corner will often suffice.
Ultimately, proper installation of vinyl graphics made with the best possible materials can ensure any possible damage to surfaces will be minimized. And ask about our anti-vandalism film. The film makes it much easier to clean your decals, so you won't need to order a new set if your building is vandalized.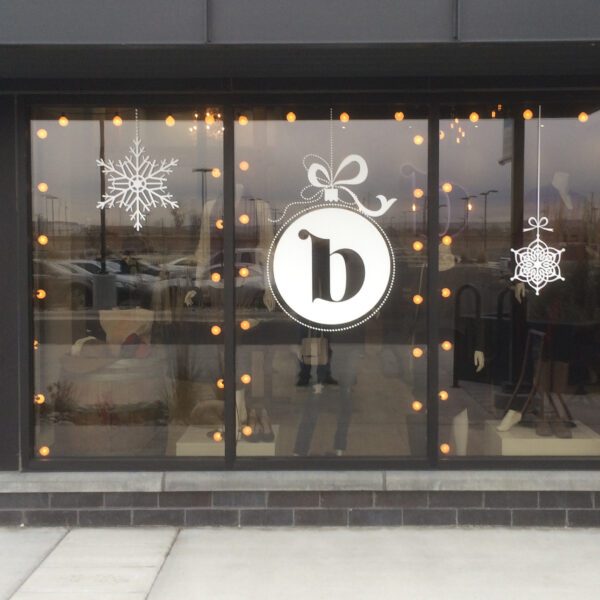 Decal Examples
---