like, subscribe, and follow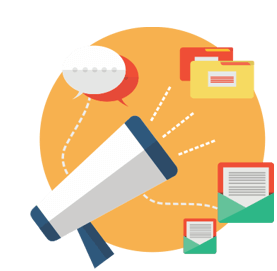 Social media has revolutionized personal and professional networking – now people can connect to others across all demographics and huge distances. Most people use some form of social media daily: staying in touch with friends and family on Facebook, checking out the latest trends on Twitter, or keeping in contact with professional contacts on LinkedIn. It presents an excellent opportunity for marketing – instead of waiting for potential clients to find you, go straight to them with social media marketing!
Creative, consistent social media content can build connections with new customers, and help you retain current customers. Most people don't check a business's website every day, but using social media, you can post updates, announcements, events, and other information, and your network will see it without even departing from their daily routine.
Many social networks also offer pay-per-click advertising options on their platforms, allowing you to increase your reach beyond those who have liked or followed your account.
This trend is here to stay, so don't miss out. Contact us – we can help you decide if social media marketing is right for your company, and help implement an engaging online marketing strategy specific to social media.