get discovered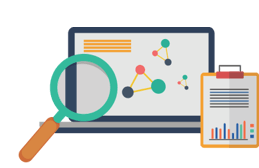 A new website is a good start, but what if your customers can't find it on Google?
Perhaps your site ranks lower than your only negative internet review, your site can't be found in searches for relevant keywords, or your site visitors aren't engaging with your products & services.  Search Engine Optimization (SEO) addresses all these issues. Through web analytics, we determine what needs to be done to improve your search rankings, increase traffic, and and promote engagement with your website.
Let's go over some common SEO solutions:
Research keywords and incorporate them through quality content, site structure, and page headings.
Manage your online reputation – reviews on Google or other sources can make an impact on potential customers!
Track and analyze site traffic – how and where are your visitors arriving on your site? How long are they staying? What are they clicking on (or not clicking on)?
Link building – links to your site from outside sources can improve your standing and increase traffic.
Recommend new pages or changes to your site to improve user-friendliness.
The actions we take to optimize your site can vary widely depending on your industry, your needs, and the age of your site and content. Also see our Local SEO services for local businesses. Contact us or request a quote to discuss our search engine optimization services in more detail.
---
Note: We are certified in search advertising through the Google Partners program. However, our search engine optimization services are neither verified nor endorsed by Google.