Vehicle wraps and lettering are common among businesses with a company fleet, but they can be great for other businesses too. If your business delivers, provides in-home services, or even if you just drive to meetings on a regular basis, you can advertise while you drive.
Plus, branded graphics promote brand trust at your destination – whether that be a business lunch or a service call. There are several ways to apply vehicle lettering and graphics, and our staff can help you select the right style for your needs and budget.
Vehicle Wraps
A hot pink truck with your company name in foot tall letters goes a long way to reaching people and letting them know what you do. Need we say more?
Full vehicle wraps are vivid and attention-grabbing and can include whatever text, imagery and color you want. Or, if you're not quite ready to sport a full wrap, we can also do partial vehicle wraps with cuts that reveal your car's normal shade.
Vinyl wraps aren't limited to cars and trucks, either. We can apply a wrap to any type of vehicle, including fleet vehicles, utility vehicles, and trailers.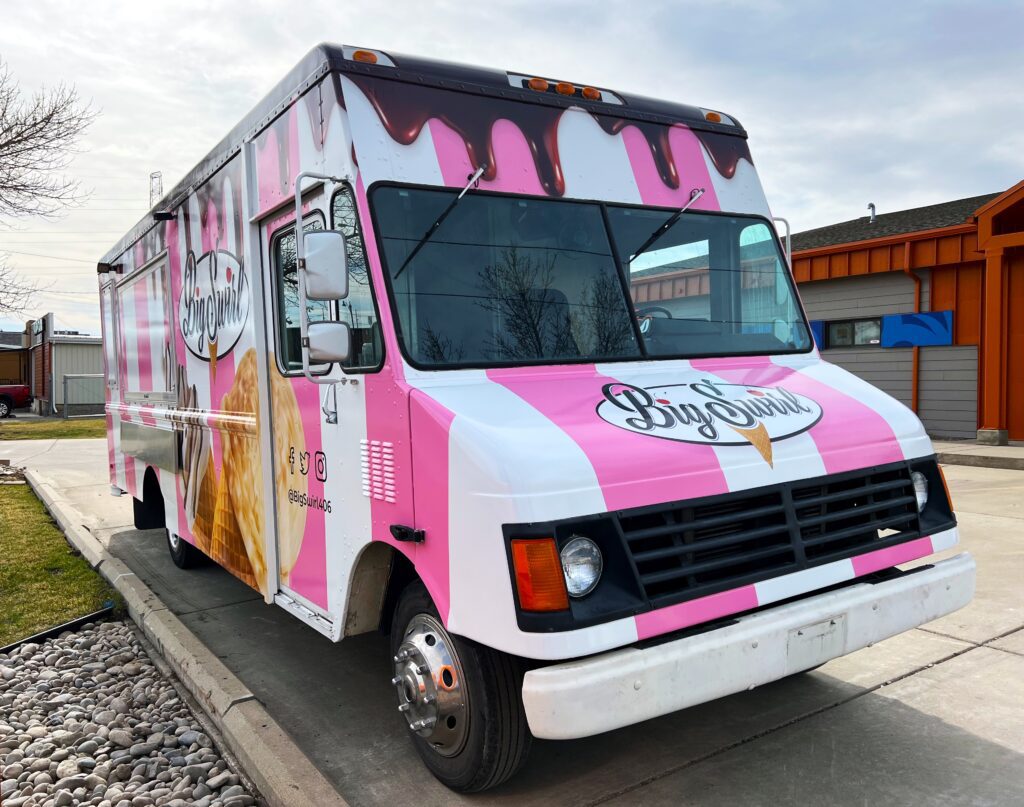 ---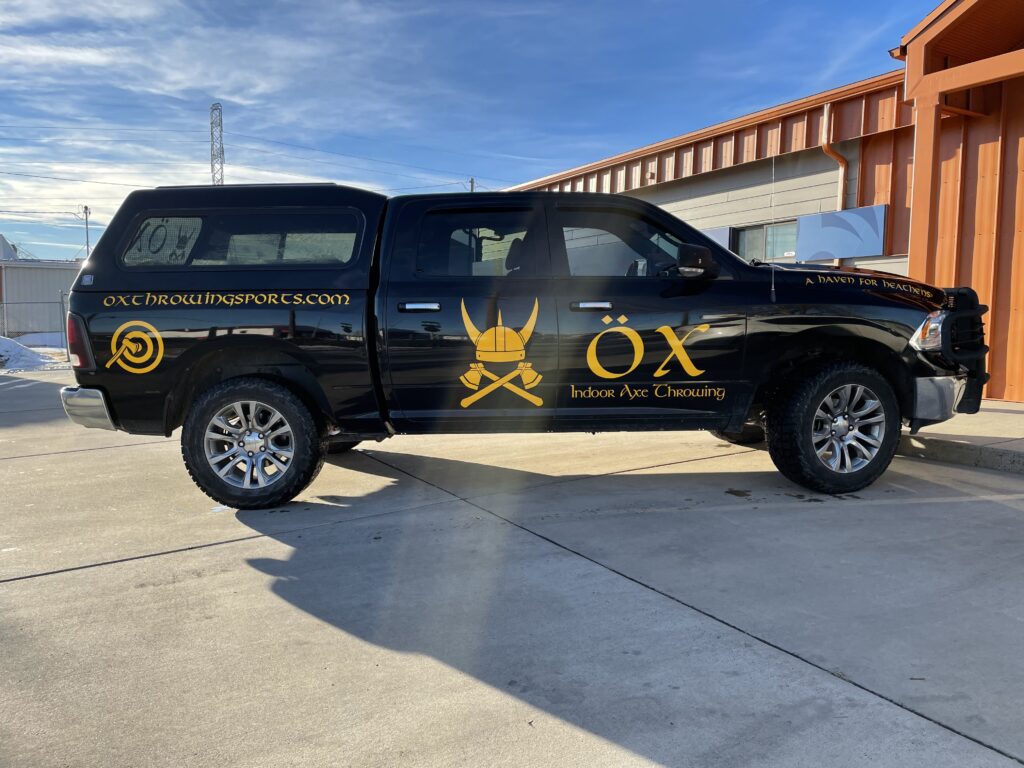 Vehicle Lettering
If you're looking for something more subtle, or just a low-cost solution, vehicle lettering is a great option. You might include your business name, tagline, and contact information, and a small graphic of your logo.
Each letter is contour cut out of a solid color roll of vinyl into individual shapes so there's absolutely no background. That's why vinyl letters are so popular for lettering storefront windows, company vehicles, enclosed utility trailers and interior walls.
Whether you choose a full wrap or a small decal, we always use high quality materials that stand the test of time.
---
Considering a vehicle wrap for your company or organization?
Our Vehicle Wrapping Process, Explained
---
Zee Creative works on vehicle wraps for businesses and individuals. We wrap everything from trailers to the local Baskin Robbins truck!
First, we'll work with you to create a design that makes sense for your brand and looks great. Once you've approved the final design, we'll get to work producing the wrap. Every wrap design is client proofed before printing.
When your vehicle wrap is ready, we'll schedule a time for the installation. We'll have you drop off your freshly washed vehicle the afternoon before the install. Wraps apply best and last the longest on auto paint that is in good condition–rust, oxidation, or other damage can make the installation impossible.
Before the wrap is applied, we may remove or disassemble minor parts of the vehicle that may impede the seamless application of the material (mirrors, handles, etc).
We'll then apply the wrap panel-by-panel, trimming away excess material, until the whole wrap is complete. Most passenger vehicles take 1 to 1.5 days to fully wrap (larger vehicles and trailers will take longer). After the wrap is applied, we'll re-install anything we removed.
The day after the wrap installation, we'll complete a final inspection and check all the details before you pick up your vehicle.
Vehicle Wrap Maintenance
---
A wrapped vehicle requires little additional maintenance, but to keep your wrap in great condition, keep the following in mind:
Wash your vehicle gently. Hand-washing is best, but brushless car washes are effective and preserve the quality of the wrap, as well.
Avoid pressure washing, as this can cause the vinyl to lift along the edges.
No wax is needed for wraps.
Vehicle Wrap Examples
---