A Billings, MT Sign Company With Solutions For Your Business
---
When it is time to create custom signs and graphics, you need to utilize the services of a sign company that is experienced in providing solutions to your printing needs. An experienced sign company knows that signs can be your business' first impression. Zee Creative knows there are different shapes, sizes, materials and locations that can be used to market your company. In addition, we don't offer a cookie cutter solution to your branding needs (skip to portfolio!)
Your sign is the world's first impression of you and of your business. We have both the talent and experience to help you define and refine your image, then bring that image to prominence in the marketplace. Vehicle graphics, interior and way-finding signs, exterior letters and monuments, banners and those miscellaneous decals and logos are all important to you, and to us.
Having a graphic design team that has an in-depth understanding of your company and how you want to market your message in a unique way is vital. Additionally, visual aspects of branding are essential in both online marketing campaigns and print marketing. We count on our team to provide the full range of design services to our clients.
We have a long history of successful design projects including sign and logo designs. Let's sit down and discuss your business branding vision. Then we can begin working on your custom signs solution.
Our Sign Company Works Start to Finish
---
A sign installation project isn't truly complete until each sign has been installed properly — we can handle your project from start to finish.
Hiring professional sign installers ensures your signage is handled with care and installed properly. Signs need to be installed differently depending on the materials used, and a general contractor may not be aware of these details. Fortunately, our install team is made up of sign experts who participate in production on a regular basis. That means your installer will have the necessary knowledge to install your sign cleanly and correctly.
From the most intricate interior design elements to exterior building signage, architectural elements and awnings, directional signage, channel letters, hi-rise pole signs, and monuments. Our expertise includes complete project management, design, manufacture, delivery, and installation of signage projects for our clients.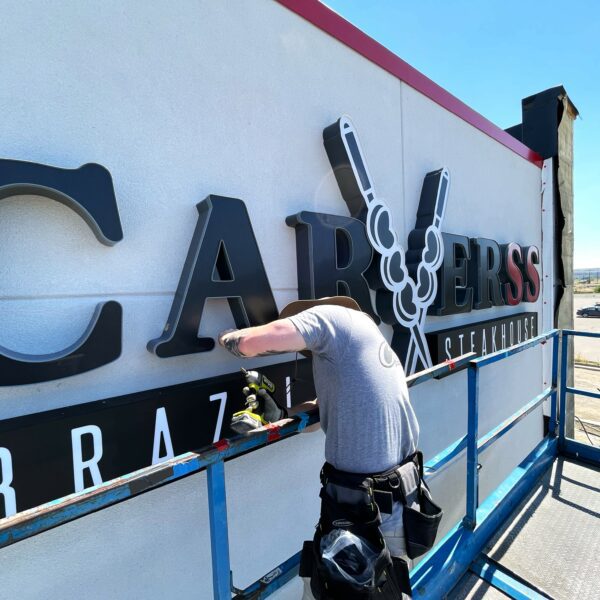 Did you know?
We can also complete installs for signs from other vendors (online or local). Contact us to get started.
Custom Signs Help With Branding
---
Our portfolio includes all varieties of signs in a vast array of materials, sizes, and unique custom shapes. Keep these options for custom signs in mind when branding your business:
Make a Statement
---
As a leading service provider for signage and branding solutions, we are an extension of your brand:
Sign Design
Location Drawings
Code Review, Submittals, and Permitting
Production Scheduling
Manufacturing
Installation Management
Service and Maintenance Requests
At Zee Creative, we understand that architectural elements are an integral part in our clients achieving their branding and signage goals. Our design and manufacturing team is ready to find the right solution for your project.
Contact our experienced Billings, MT design team today about creating custom signs and graphics for your business.
Our Signs in Action
---