We know that exterior signs can be your business' first impression. Our talented and experienced team will help you define & refine your image, then bring it to prominence in the marketplace.
Our portfolio includes all varieties of exterior signs in an array of materials, sizes, and unique custom shapes. Read about specific types below or skip to our portfolio to see our outdoor sign projects.
Storefront Signs
For businesses with brick and mortar locations, building signage is essential. A storefront sign should make it easy for people to identify your business and create a memorable impression. We manufacture signs of all kinds and will work to create a sign to fit specifications and your brand's personality.
Storefront branding is a key factor in standing out among other retailers and attracting customers. In this competitive landscape, we utilize exterior signage to serve as a critical touch point in the marketplace. Ensuring a brand is represented in the best possible way requires a trusted partner to manage all exterior signage needs.
Whether it's a new store location or a signage update, we know local ordinances and tenant guidelines to recommend the best approach to maximize brand visibility and signage longevity. And because signs are installed differently depending on the materials used, a general contractor may not be aware of these details. Fortunately, our install team is made up of sign experts who participate in production on a regular basis. That means your installer will have the necessary knowledge to install your sign cleanly and correctly.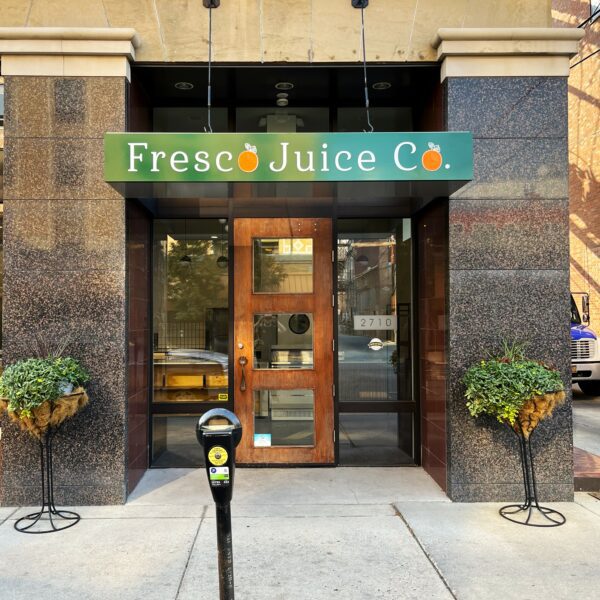 High-Visibility Options
If your business is located on a busy and/or densely developed street, you'll need an exterior sign that is noticeable to drivers and customers.
High-visibility signs are freestanding signs characterized by the fact that they are permanently fixed to the ground by a solid base, braces, or poles. They are usually located near an entrance to an organization or business, and show that business is established and will be there to serve them for years to come.
A welcoming and valued component to your business property, having professional looking monuments and freestanding signs is a must in today's highly competitive world.
benefits of monument & freestanding signs:
Immediate Visual Impact
Putting your best foot forward means incorporating your brand into everything from your monument sign to parking lot signs, a spot in a pylon sign and pedestal signs.
Great For Advertising
Monument and tall pole signs can stand out above other buildings or signs and are easy-to-see type of advertising for anyone who walks or drives by your business. Our sign experts can design and install a high-visibility sign that will stand out from your neighbors and competitors.
Weather Resistant
+ 24/7 Visibility
While these types of signs can be both illuminated and non-illuminated, they keep working through all weather conditions and the time of day. You can reach potential customers with monument signs that work for you 24 hours a day, 7 days a week.
Illuminated Signs
Outdoor lighted signs increase nighttime visibility and create additional aesthetic appeal. We have several lighting techniques at our disposal to create stunning lighting effects. We have worked successfully with many businesses in the Billings area to create and install distinctive exterior signs that stand the test of time.
Outdoor lighted signs increase nighttime visibility and create additional aesthetic appeal. Nearly any sign can be illuminated in some fashion, and we employ a range of lighting types for different styles and budget. There are a few different ways to light a sign and they all produce different looks.
Have a unique idea for your sign's lighting? Let us know. We can combine lighting types and depth in the design to create new & interesting effects. Illuminated lighting can create a dramatic effect on indoor signs too.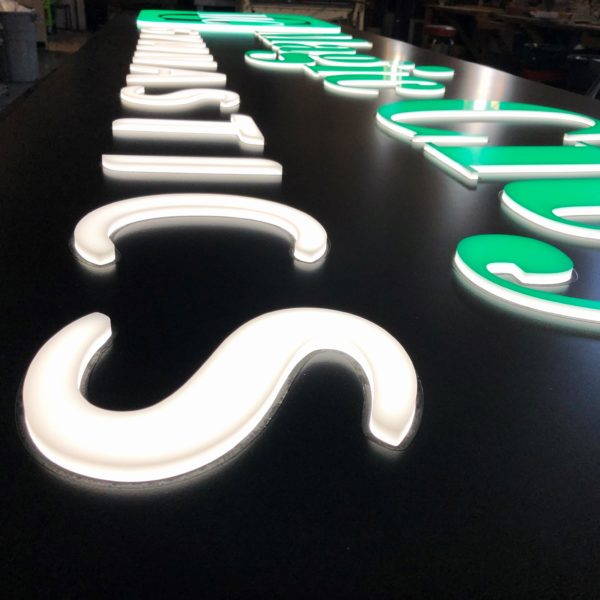 Internally lit signs: Internally lit elements simply glow. Channel letters are a tried and true method of internal lighting, but we achieve similar effects with internal LEDs as well.
Back-lit signs: Back-lighting creates a halo effect around the elements of your sign.
Illuminated push-through letters: Push-through letters create texture even on an unlit sign. But when lit, the light shines out the sides of the letters creating a unique effect.
Cabinet/box signs: A sign cabinet features your sign design printed on a box which contains a light source. Can be attached to the face of a building, or mounted on a pole for more height & visibility.
Top-lit signs: A simple solution for sign lighting, similar to some billboards. Lights are attached to the wall above the sign, then pointed at the face of the sign.
Sign Problems?
---
While we wish that signs could last forever, weather, time, and human beings will eventually take their toll on your exterior signs. The good news? We're here to help!
Sign Maintenance
After years of steadfast service, your signage can get a bit run down. Colors start to fade, fasteners wear out, electrical components for your sign lighting go bad, and so on. Proper maintenance can stop that wear & tear in its tracks and prevent a costly repair (or total replacement) down the road.
Sign Repair
When your once-stunning signage loses its shine, suffers damage in a storm, or falls off the wall, you might assume the only option is to replace it. While we are always thrilled to take on new projects, sign repair and refurbishment are also within our realm of expertise.
---
We create exterior signs of all kinds, and we repair all kinds too. From indoor to outdoor and simple to complex, we can diagnose and repair your signage.
Having trouble with a sign from another vendor? We may be able to help.
Exterior Sign Examples
---