graphic design and you
---
Graphic design. What does it have to do with your business? Design has the potential to be highly involved in both online and offline marketing materials, from your business' Facebook cover image to your billboard ads.
---
Want to Skip to the Best Part?
---
logo design with a personal touch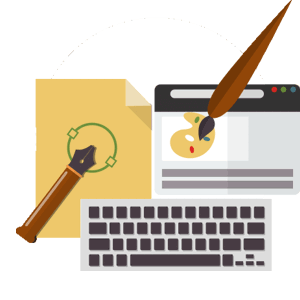 Creating a logo is a personalized process, and as a result many people consider designing their own custom logo. If you have an eye for design and the appropriate software, this can work. However, many business owners find the DIY approach more time-consuming and difficult than they expected.
That's where the Zee team comes in. Not only do we have the know-how to create awesome logos, but we also take pride in creating logos that our clients love.
The process begins with you:
We'll give you an opportunity to share your ideas and tell us a bit more about your business.
Our design team will create initial logo concepts and send them to you to review.
You'll let us know which ones stand out to you.
We'll revise the drafts, send them to you, and repeat until we've found your final logo design.
We can also create variations of your final logo if needed: one-color versions for embroidery, horizontal versions for letterhead, etc.
We'll provide copies of your logo in file formats suitable for print, web, etc.
Your custom logo will be with you for years to come – we can craft a logo that represents your brand identity & stands the test of time.
---
Need a New Logo?
---
Memorable Designs Make a Difference
A high-quality logo is a good start, but great design can make a difference in your digital marketing or print marketing efforts too. Visually interesting and relevant graphic design helps customers relate to and remember your business.
Imagine the difference it could make for your online and offline marketing strategies, including:
PPC Display Ads
Business Cards
Letterhead Designs
Flyers & Posters
Social Media Cover Images
Brochures
Package Design
Presentation Folders
A great graphic design company can create seamless designs across all your digital and physical marketing materials. If you are rebranding or launching a new visual marketing campaign, give us a call!
---
Images > Words
---
Zee Creative has been in business since 1998, and our graphic designers' combined experience exceeds our 2 decades in business. Our past design projects span from boutique retailers to outfitters and from trendy to timeless. If you are looking for truly original design, look no further.
We're confident we can create visual materials that will exceed your expectations, but we prefer to let the images speak for themselves. Check out our graphic design portfolio below, or read our client reviews.