images > words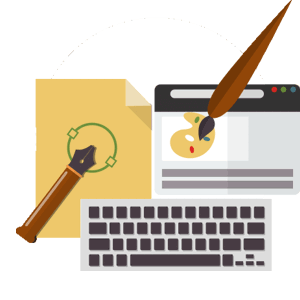 They say a picture is worth a thousand words. What is your visual brand saying about your business? Visually interesting and relevant graphic design helps customers relate to and remember your business. Imagine the difference it could make not only for your website, but for your print ads, letterhead, business cards, and outdoor signage as well. We have decades of experience designing logos and print marketing materials including:
Logo Design
Letterhead
Brochures
Custom Illustration
Print Ads
Package Design
Rack Cards
Flyers and posters
Poster and Banner Design
Presentation Folders
Tradeshow Displays
Point of Purchase Displays
Sign Design
Vehicle Lettering and Vehicle Wrap Design
We prefer to let the images speak for themselves. Check out our graphic design portfolio below, or read our client reviews.
interactive multimedia
Multimedia design? Sounds fancy, but you're likely engaging with multimedia content daily on Flickr, YouTube, and even Instagram. Essentially, multimedia design combines text, images, video, and/or audio to create interactive content. Nowadays it's rare to visit a site without some form of multimedia content. We can help with your multimedia needs:
Multimedia design
Embedded web site video and audio
Animated SVG graphics
Online advertisements
Web-based mobile apps
Interactive web applications
Splash pages
Animated & video web advertising
If you are looking for truly original multimedia & graphic design, look no further.