About
Western Native Voice is fostering positive social change in their communities through leadership development, education, engagement, and public policy advocacy.
Their vision is to engage Native Americans in building political and personal power to address local community challenges. They support and encourage Native community members to step up and be a voice for their families and communities through the civic engagement process and public policies that affect their lives and well-being. They strive for a world absent of discrimination and inequality, where every human has equal access to safety and success.
The Project
When you hear of a non-profit that works for progress and equality, you don't have a choice but to support it as well as you can. In our case, through a cohesive re-branding effort, that support should promote the organization across a variety of mediums. This rebranding coincided with their 10-year anniversary. They wanted to bring the organization into the present with a more modern look.
Branding Goals
Easy-to-digest visual content to help their communities and donors understand what WNV does.
A modern design that appeals to Native Community Members and donors alike.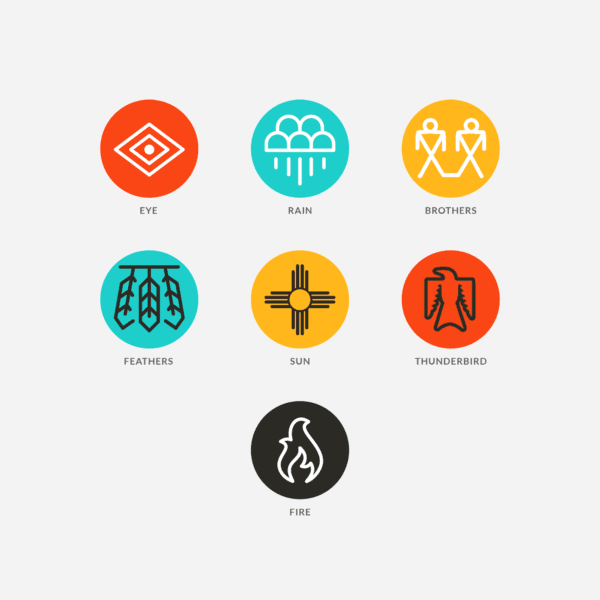 In essence, a brand that intersects visual appeal & full functionality
The Process
The project for Western Native Voice was a big challenge for us, because the message and the idea they want to present to their communities is so good, we weren't sure how best to capture their vision. So we established that everything should build off the logo and include several factors that illustrate the mission of the organization. This is represented in the iconography above inspired through studying commonly used Native American symbols.
The Result
The logo designed ended up taking from their previous logo, both colors and graphic elements. The subsequent projects including print materials, a trade booth, vehicle wrap, signage, and a new website compliment each other well. This was essential in creating and establishing their brand online and in person.
We've loved working with this awesome non-profit that works to inspire Native American Leadership so their communities flourish! Elevating the transformative work WNV accomplishes every day brings our team great pride.
Need Design Help for Your Non-Profit?
---