About Billings Parks and Rec
Residents and visitors are offered approximately 2,580 acres of managed parkland through Billings Parks and Rec that includes:
171 Park Areas
Over 100 athletic fields (soccer, baseball and softball)
66 horseshoe pits
40 playgrounds
19 tennis courts
29 basketball courts
29 park shelters
6 neighborhood centers
30 miles of paved multi-use trails
4 spray parks
2 outdoor pools
2 wading pools
2 dog parks
A batting cage facility
Par 3 golf course (operated by the Exchange City Golf Corporation)
And a minor league baseball stadium. Phew!
Project Goals
To build on the momentum of people wanting to engage in the outdoors and park programs (fueled by the pandemic), Zee Creative knew the Billings Parks and Rec website needed more than an aesthetic makeover.
They needed a total reassessment of goals and strategy. After intensive collaboration with the Billings Parks and Rec team, we were able to lock in on three main objectives:
Create a website design that conveys the fun-filled environment of the Billings Parks and their programs for kids, teens, adults, and seniors!
Drive traffic to their social media channels and mobile app by integrating with the website and creating standout calls to action.
Create a searchable directory of parks, pools, picnic shelters, and more in a way that engages their users and guides people to the perfect park!
The Process
Design
During the design phase of their website project, we researched and discussed with the Parks and Rec team what draws people to their facilities, and how they enjoy and spend time there.
To meet these requirements, we established an extensive color palette, supported with graphical textures that resembled topographical maps. Placed strategically throughout the site, this helped to tie Billings Park and Recreation's digital space to their physical space (all those parks!).
Park Finder Web Application
For the Billings Parks and Rec directory, we wanted to create more than just a list of parks on a page. We set up a searchable park directory that's also sortable by custom features. For instance, let's say you wanted to find a park that has a picnic shelter or a volleyball court or both. Just check the boxes and see what comes up: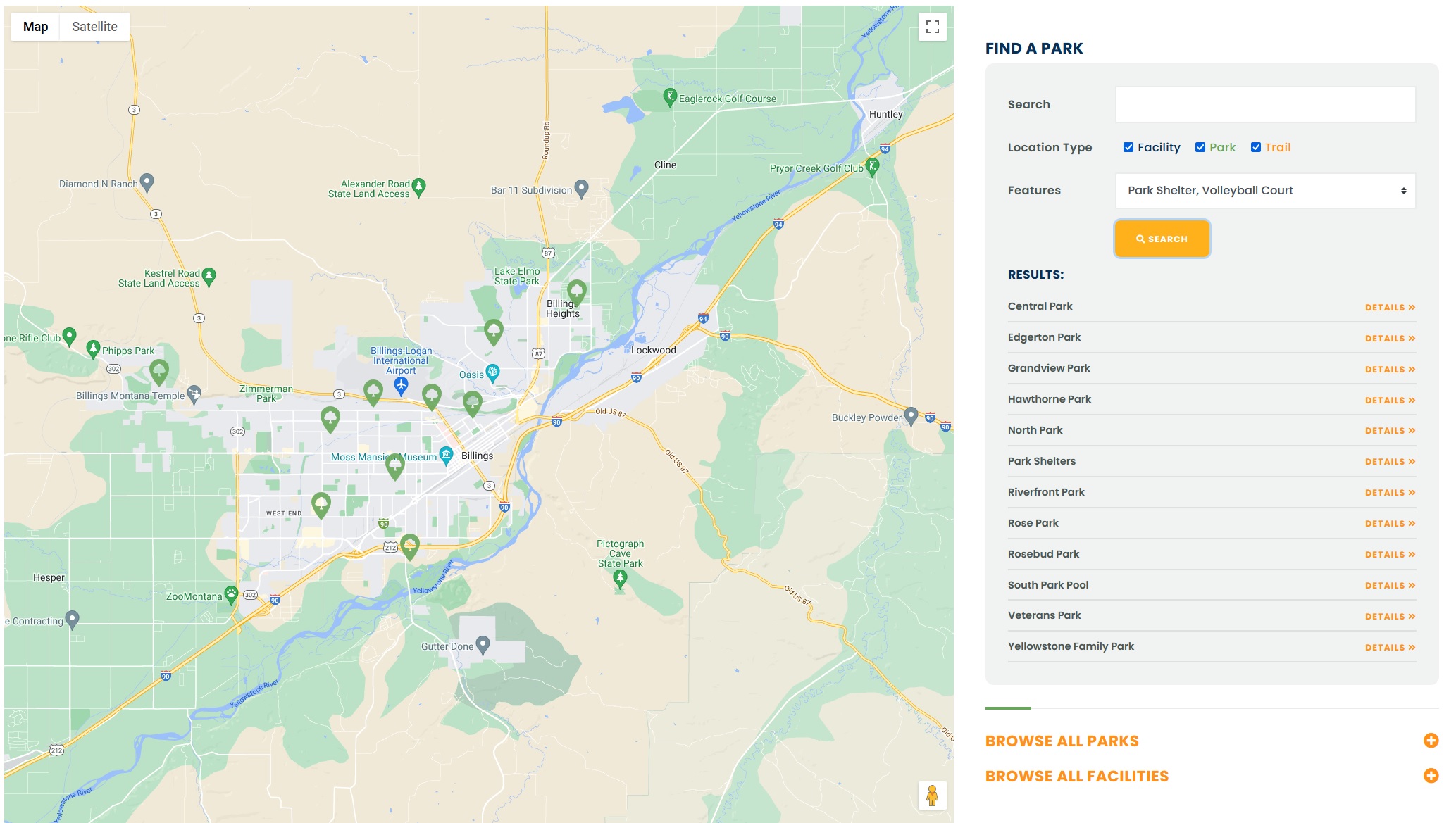 Each park also has its own subpage, filled with photography and details such as their features (playground, folf course, pickle ball courts, etc), and their location within the city. We also supported this with a beautiful custom-designed Google map overlay, visually displaying each of Billings' amazing parks.
Learn more about our web development capabilities.
The Results
Once the design of the site had gone through the proofing process and into development and testing, Zee Creative was able to bring the site live with confidence that the new Billings Park and Rec website would achieve the goals set.
Like what you see?
---