mobile-friendly design: why it matters
In short: Mobile-friendliness matters because user experience, or UX, matters.
Wikipedia defines user experience as "a person's emotions and attitudes about using a particular product, system, or service." UX is made up of a combination of both objective and subjective factors –ease of use, perceived trust in the service, etc.
We'll spare you a lengthy discussion of the details, but feel free to visit the Wikipedia article on the topic if you're curious.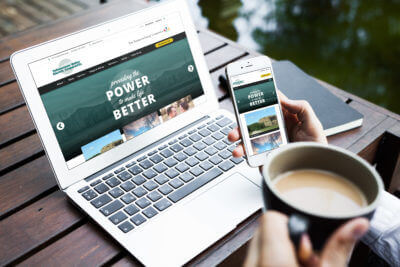 User experience affects the number of phone calls, form submissions, ecommerce purchases, email signups, etc, that you receive from your website. Thus, it's important to make sure customers have a seamless experience on any device or browser.
That includes mobile devices and tablets!
If your website isn't mobile-friendly yet, it's time to look at a redesign. Google announced that searches performed on mobile devices exceeded the number of desktop searches back in 2015!
With so many potential customers making initial or final purchase decisions from their mobile phone, a mobile-friendly website with a responsive design is a necessity – for today and for the future.
responsive design
Mobile-friendly design is often achieved through responsive designs, which adapt to various screen sizes to provide a great browsing experience on phones, tablets, and desktop monitors of all sizes.
There are a few different ways to implement a responsive design – check out our blog post on the topic to learn more.
---
Read more on our blog:
What is responsive web design?
---